Innovations to further propel Your business
and the prepaid Industry.
Our blend of cross-segment experience allows us to think 'out of financial services box,' and bring you ideas that can help you find new opportunities in market trends – harnessing technology and marketing tactics that will capture new customers and increase usage.
Ignite your prepaid program with innovative features and tactics.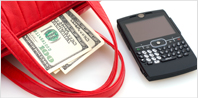 As thought leaders in the prepaid segment, iPrepaid is launching products for our clients which will advance and benchmark the entire prepaid segment. Always at the forefront of industry trends, the team can provide insight and ideas to help you advance your prepaid products beyond consumer launch by taking advantage of new opportunities in technology and marketing, as well as the agility to meet shifting regulations.
The iPrepaid team has been a leader in helping our clients develop the next generation of prepaid card features. Among the many innovative enhancements we have directed include:
* Personalized PIN & POS Card Activation


Using PIN based terminals that allow new cardholders to quickly select a personalized PIN and activate their cards at the time of sale.  This process improves the consumer experience and achieved industry leading card activation results while reducing operating costs for a major financial services chain with over 140 locations.

* Mobile Prepaid Application


A payment-based mobile platform that provides issuers with a suite of Visa-quality mobile solutions that can be used to solidify relationships and increase usage with this increasingly mobile-savvy customer segment that uses GPR prepaid cards.

* Mobile Check Cashing


This patent-pending mobile phone app allows consumers to cash load checks onto their prepaid card using their camera-equipped smartphone or tablet. Users can cash and load checks from anywhere at any time, allowing for quicker access to funds on their reloadable prepaid cards. Users simply click the private-branded application on their smartphone or tablet, endorse the check, agree to any applicable fees and snap photos of the front and back of each check that is being submitted. Once approved, the funds are then automatically loaded to their pre-assigned GPR prepaid card.
Contact us to discuss how we might create a unique plan for your business.